5 Foods You Thought Were Bad, But Aren't
Are you sick of all the articles on "secret" diet-wrecking foods?
You know - the ones about how diet cereals, artificially low fat products, diet shakes, sports drinks and healthy ready meals will actually kill you. Well I am too.
There's no doubt that the message these articles are sending is a good one, and completely true, but it can get a little tedious reading about them all the time. I agree as much as the next person that the Special K diet is a massive scam, and that despite what the adverts say, swapping your regular meat and milk for quorn and soy is about as stupid as it gets, but I think this has all been covered.
Instead, how about an article that lists the foods you thought were bad for you but aren't?
Well, that's what you've got coming at you now.
1. Peanuts
The classic pub snack - loaded with calories, salt and fat.
They may be ideal to accompany your Bishop's Finger or Hobgoblin, but they're actually not a bad dieting filler. To tackle the main issues - yes they are high in calories, but if you exercise portion control this isn't an issue. They have less salt than you'd think, and anywya, unless you have blood pressure issues, this isn't an issue. With regard to fat, they are around 50% fat, but again portion control is key, and you do need a certain amount of fat in your diet.
2. Whole Milk
Skimmed milk is 0% fat. Semi skimmed is 2%. Whole milk is 4%. Big difference? No.
Because ot contains fat, the vitamins and minerals in whole milk are far more easily digested than in skimmed. Milk choice really is personal preference, but the difference in calories is negligible. If you like whole, then stick with it.
3. Beef Jerky
While it may be associated with an on-the-go lunch for truckers, beef jerky is great is you want to increase your protein intake. It's more or less just dried meat with some seasoning and a tiny bit of preservative. I'd say considering most people need to eat a hell of a lot more protein, beef jerky should be far more prominent in our diets.
4. Sausages
Okay, so your 10% pork, 90% rusk/fat/skin/sinew sausage may not be the best choice, but a good quality sausage with a high meat content is a fine =, fine thing.
If your fat intake allows, choose a good quality (90% plus) pork or beef sausage, or if you're watching the calories and fat, venison sausages are a life saver. Just make sure you accompany them with veggies rather than chips and beans.
Sausage stir fries are great, as are sausages with some sweet potato, squash or carrot mash with grilled mushrooms, onions and tomatoes.
5. Cheese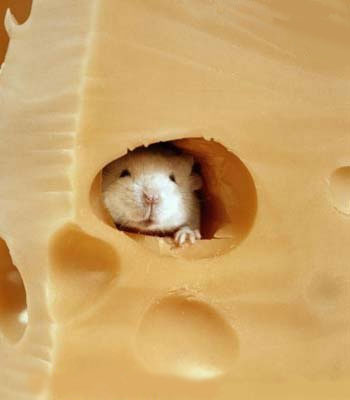 Cheese is similar to peanuts in that it is higher in calories, but it does provide a little protein, along with a good whack of decent quality fats. Because of the fat content, it does fill you up fairly quickly. A 30g chunk as a snack, or on top of a homemade burger is a fantastic way to satisfy your cheese cravings, while getting some decent fat.
If you struggle to contain yourself when weighing out your cheese, then try Babybells instead - they're a perfect busy-man's snack.